Did we all like comedy movies? Comedians? Comedy in general? We all like to have a big laugh at the theater?   I Do!
From Chaplin Chaplin a man who can make you laughs without saying a world n his films to Jim Carrey who is my personal favorite.  Is good to go to the cinema to be relax and chill. Or in you house watching a movie.
Silent Comedies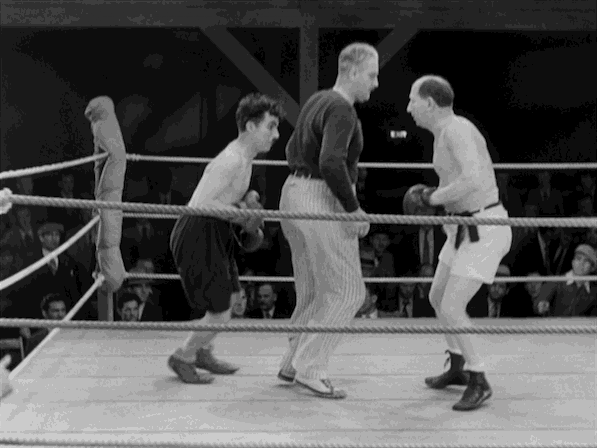 (gif from City Lights)
Who's better than Charlie Chaplin in Silent films. Made in the silent era and I believe that Modern Times (1936 ) was made when audio production begins.
We have also Rowan Atkinson aka Mr. Beans. Who he is the only silent character in the whole movie, and he is really funny.
Is utilizing exaggeration of action , also named slapstick comedy which probably  UK has one of the greatest ever made with Monty Python and The Holy Grail (1987). 
Spoof Comedies
This type of comedy can be really hilarious if you know how to do it and also can be really awful if you don't.  Actually one of the greatest comedies of all time is a spoof film and I'm sure you have seen it. The name , Airplane! (1980)
Here's a clip of one of the most famous scene of the movie.
Spoof is like mocking, well the right name is parody. like another example who is a parody to Star Wars. The name is  Spaceball (1987).
And recently the animated films like The Lego Movie and The Lego Batman Movie are kind of spoof, and they're are so damn fun!
Dark Comedy 
One of my favorites. You can express and talk things that are not that funny in real life and turn it into something hilarious with irony and sarcasm.  The perfect example is Dr. Strangelove or: How I Learned to Stop Worrying and Love the Bomb (1964). 
Master Kubrick know how to nailed it. Check this clip and you'll see how relevant and ironic this film it is.
other example of dark comedies are The Wolf of Wall street (2013) , I think The Big Lebowski (1998) are part of of it.
Rom – Coms
Oooh the romantic comedies, I know you girls love them and I know you guys enjoy them too. I liked them. Can make you laugh , fall in love and also maybe cry.
More hybrid comedies: Horror/ Comedy, Action Comedy , etc.
A comedy is supposed to make you laugh, have fun and entertain. There can be drama films with comedic elements but it doesn't mean that the movie is a comedy like for example the recent " Phantom Thread." 
I don't need to talk more about comedies or be more deeper right?
https://www.facebook.com/TheDailyCinemaPost/?ref=bookmarks
Twitter: @filmmakerpr/ @TheDailyCinemaPost