The great recent debate about filmmakers deciding to work like the old days with film cameras or the new way with digital cameras.
Film is much more expensive.
If you have money to rent or buy a film camera, go and do it. Major Studios can afford it but for indie filmmakers is more complicated. You don't find these cameras everywhere , you have to buy film celluloid and have a special editing machine to be able to edit your film. It's a little more complicated these days but not impossible.
As film lover I remember the early days of my childhood watching films in the movie theater and the projector starts to roll the film, It felt so good listening to that. Also I remember buying movies in VHS.
I love how the image in movies made by film. I would love to work one day with film. The colors , the style , the touch , the visual texture that should never die and never will. It's preferring to read a book in a physical format than digital format like Kindle.
Filmmakers like Quentin Tarantino, Christopher Nolan , Steven Spielberg , Martin Scorsese and Paul Thomas Anderson, etc; love to work with film cameras and some of them doesn't want to work with digital cameras. (Spielberg shot BFG in Digital and Scorsese shot Hugo and some scenes from Silence in Digital) .
Films shot on film: The Godfather, The Rope and Taxi Driver (duh)
Fun fact: Alfred Hitchcock's The Rope was made in 7 shots and the moment of editing was when the magazine run out of celluloid.
21 century films shot on film: The Lord of the rings , The Hateful 8 and The Force Awakens and many others.
Directors of Photography that worked with film but now are working with digital are Roger Deakins , Chivo Lubezki and Janusz Kaminski ( I think he prefers film , not sure, he have shot on digital recently) to mention some of them.
Shots made by film cameras:
Lawrence of Arabia (1962)
The Shining (1980)
Lincoln (2012)
The Master (2012)
Mostly of the time my eyes knows what movie is shot on film. Can you?
Digital cameras are less expensive.
A little bit cheaper more accessible, you can find them in many places. You can use Canon cameras or any camera that can record video, even your I phone. So you have no excuses to not shoot a short film/film. It's a matter of time and effort.
SD cards or depends the camera is the memory that frequently requires. You shoot , save and put the memory in your computer with any editing program and there your building your film.
This film is shot on film but this is the medium we use to today to buy films, DVD, Blu ray, 4K, Digital streaming. ( I am not the guy who knows how films are converted in disc , Sorry)
Now movie theaters show movies with digital projectors with high quality images. I still enjoy how great the images can look with digital cameras.
Filmmakers that work with digital today are David Fincher, James Cameron, Terrence Malick, Alfonso Cuaron, etc.
Films shot by digital cameras:
The Hobbit trilogy , The Star Wars Prequels and Captain America The winter Soldier. Examples of prequels or sequels shot in digital when the previous movies where on film.
Some Best Picture nominees and winners.
Shots made by digital cameras :
Skyfall (2012)
Birdman (2014)
Zodiac (2007)
Guardians of the Galaxy (2014)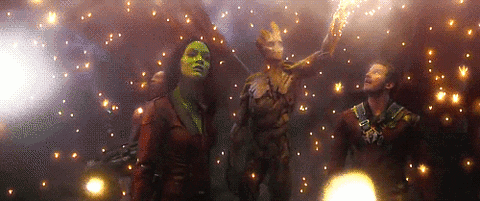 Can you notice the difference between film and digital?
There's a good documentary called Side By Side with Keanu Reeves interviewing great filmmakers about the film vs digital and you will learn more about it.
At the end it doesn't matter what style we want to see or what camera filmmakers will going to work. We are going to still loving the art of cinema.
If you like this post Follow me at : https://twitter.com/DailyCinemaPost
Facebook: https://www.facebook.com/TheDailyCinemaPost/?ref=page_internal
Personal: @filmmakerpr
Like , share, retweet, report , unfollow or whatever you want to do with this 😉
" see you at the movies"
Gracias por leer. Ciao!